Leave a comment
February 6, 2013 by talkaboutyork
February half-term is just around the corner, with most schools breaking up on 15 Feb. If you're not lucky enough to be going skiing…or possibly even somewhere warm, here's a list of things to do in York with the kids. There is so much to choose from, I feel rather pleased to be staying here and not heading to sunnier climes.
York Viking Festival
I am ridiculously overexcited by this. Perhaps it's the thought of all those strong men charging about in spiky helmets……anyway, the festival runs from 16 – 24 Feb with a range of great activities in a number of York locations. For example, a Viking camp will be set up in Coppergate where you can go learn more about Vikings and how they lived. There will be storytelling too. And it's free! Also free is Eye of York Encampment (near Clifford's Tower) where you can learn about Saxon-farmer warriors and get to watch daily skirmishes at 12 and 2pm. There are plenty of walking tours and shows, which you need to book and pay for.
One that caught my eye was Poo Day on Wed 20th at the Barley Hall where you can make your very own replica historic poo. Who wouldn't want to do that I ask? On Sat 23rd there's the 'Brawl at the Guildhall' – a strongest Viking competition, not to mention the Best Beard competition at Coppergate. It all culminates in the Festival Spectacular Finale in which hordes of Vikings clash. You definitely need to get tickets for that.
To see the full programme, go here
National Railway Museum – Big Fun with Little Trains
Running all of half-term, there will be a special play areas and workshops, particularly for the littlies. There are also plenty of rides (some incur a charge). You can see a wide range of family friendly model layouts and can take part in a Chuggington challenge to stack your track as high as you can. Entry is free. See here for more info
York Castle Museum – Come and play
My favourite museum in York is putting on a special exhibit opening in time for half term called 'Come and Play'. It features a range of toys and games from the last 150 years – find the ones from your childhood and have a good old nostalgia trip. There's also a teddy bear trail for the children to follow round the museum. Entry is free for York Card holders. For info, go here
Bird Box making at Fountains Abbey
If you're a National Trust member (or even if you're not), get to Fountains Abbey on 20 – 22 Feb (times 10am- 12pm, 1pm – 3pm) to make a bird box for your garden at the family craft workshop. While you're there, explore the Abbey. Who knows, the daffodils might be out. So head out to the Secret Look Out for a spectacular view. Cost to make a Bird Box is £5. Entrance is free if you have NT membership, otherwise normal admission prices apply. See here for details
Time Travellers Go Gruesome – Whitby Abbey
February is not the best weather for the seaside, but a good bracing stroll along the beach at Whitby will certainly blow away any cobwebs (and let's not forget the allure of fish and chips). But why not head to the Abbey and explore some of the gruesome side of history with hands-on activities and plenty of time travelling fun for children.  Meet Thomas Turlis, the Public Hangman, equipped with gallows, ropes, and the other 'tools' of his gruesome trade. Listen to him recount the nature of Crime and Punishment during the Georgian period when death was the punishment for over 200 offences. Follow the Crime and Punishment Trail too – there is plenty to keep children entertained all day. Free with English Heritage membership. Running every day from 10 – 4. For more info, go here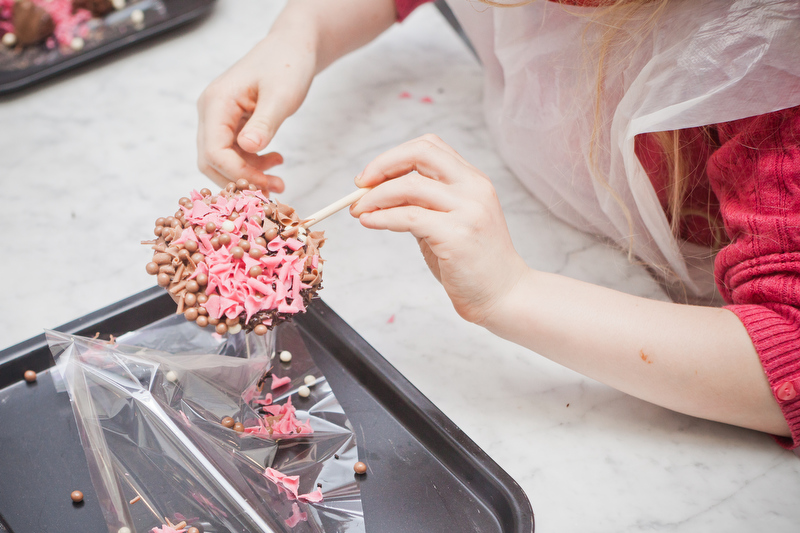 York Cocoa House – Create a Chocolate Lollipop
Every day between 10am and 4pm you can create your own chocolate lollipop. No need to book, just pop in and get creating. They have lots of yummy toppings to decorate your lolly with. You will need to leave 30 minutes for it to set before taking it home, but you could pass the time having a hot chocolate on site! Cost is £4. For more info click here
Geocaching along the City Walls
If you're not sure what geocaching is, click here to find out more about it. Basically you download an app onto your phone and then look up geocaches near you. The app will show you the location of hidden caches (a cache being a small box or tiny little camera film case). You have to use the compass on the app to find the hidden caches. There is a loop of caches hidden along the York City Walls which makes a great length walk. I've yet to try find them but it is on my itinerary for half term. So except for paying for the app, it is a free activity which you can then do all over the place. Kids love it as it's a glorified treasure hunt.
Sports camps
If you just want to wear the little darlings out, try sports camps. Options available are a two day cricket course at St Olaves School (18th & 19th), three day rugby camp at York Rugby Club (20th,21st or 22nd) or two day football at St Olaves (21st & 22nd). Go to SASPortscoaching for details.

I'll readily admit that these activities seem to favour boys. Perhaps that's because I have boys or perhaps that's because it's boys who parents need to get out of the house and run ragged. But if you know of any great half term activities in York and surrounding areas that I haven't mentioned, particularly if they're good for girls, please share them below.